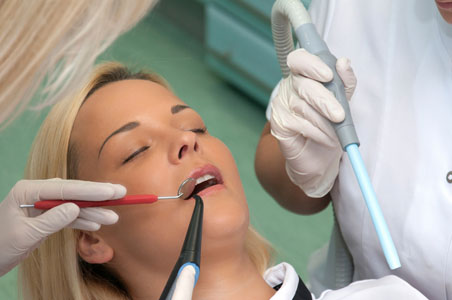 In our Bryan dentist office, we put you first, and that means providing the highest quality dental care and taking the time to educate you about your oral health. We will answer your questions, show you how to brush and floss properly, and even talk about what foods are healthy for your teeth. These conversations can get interesting when patients ask questions that are slightly beyond the ordinary. Here are some that we hear on a regular basis.
Do I really need to see a dentist while pregnant?
Yes, you do. If you are pregnant, it is of critical importance that you visit our dentist office and have your teeth cleaned twice a year. Pregnancy is hard on the body, even if you are in excellent health. During this time, your unborn child will need a lot of nutrients and as such, blood flow to the rest of your body can become slightly restricted. This can lead to red and swollen gums along with gum disease. If you weren't pregnant, gum disease would be uncomfortable and could lead to future complications like gum recession. The problem is that in pregnancy, gum disease has been linked to preterm labor. That makes visiting our dentist office an important step for ensuring that your pregnancy goes smoothly and without complication. Just be sure to tell us that you are pregnant, we can take that into consideration when we are treating you and discuss any potential procedures.
Can a dentist fix a loose filling or does it need to be replaced?
If your filling is loose, it may be because your tooth has experienced additional decay. In this situation, the filling will no longer be sufficient for covering the area in question. We will need to remove the filling and any additional decay before placing a new one. If the decayed area is too large, we may need to use a dental crown to restore the tooth instead of just a standard filling. A crown is a cap that surrounds the tooth so it can provide an additional level of protection.
Can I leave my wisdom teeth in place?
That really depends on your mouth and how your wisdom teeth grow in. If they come in straight, there may be no need to pull them. In most cases, however, wisdom teeth grow in impacted or sideways. This can be uncomfortable and create a risk of infection. Additionally, if you have had braces to straighten your teeth, wisdom teeth can push them out of place and undo some of the efforts that you have put into your smile. In order to determine the best course of action, we recommend that you schedule a dental exam so that we can X-Ray your wisdom teeth and make specific suggestions for your situation.
Can your dentist office help if I crack a tooth?
Yes, we can. A large part of what we do is centered around restorative dentistry. If you crack our chip a tooth, we can restore it to full function and a natural appearance.
Cosmetic Dentist

>
Emergency Dentist
---
---
Related Posts
February 1, 2021
Has the anatomy of your teeth ever crossed your mind, like what makes up the tooth and helps it perform its functions? A tooth consists of the enamel, cementum, dentin, root, and …
---