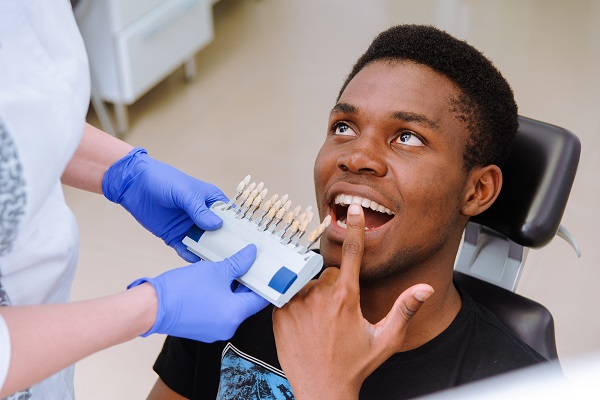 Crown lengthening is a cosmetic dentistry treatment that is used to address teeth that look too small due to being covered with excessive gum tissue. The result is a dental condition known as a gummy smile.
Crown lengthening is also used for therapeutic reasons. The treatment can be used to expose the lower part of a tooth so it can be treated for conditions like tooth decay. It is also used to expose more of a tooth so it can be fitted with a dental crown.
How crown lengthening is used in cosmetic dentistry
Crown lengthening is primarily used in cosmetic dentistry to remove excessive gum tissue so a person's smile looks more natural. It is a standard treatment for a gummy smile or short teeth. During the treatment, the dentist can also sculpt the patient's gum line, making their gums appear more even.
Patients get a shot of a local anesthetic at the start of their crown lengthening treatment. This numbs the area being worked on so they do not feel any pain. Once an anesthetic has been administered, the dentist makes cuts into the patient's gums and pulls gum tissue away from teeth.
For some people, removing gum tissues is enough to expose more of a tooth, but others might also need to have bone structures removed if the tooth is being covered up by them. When the treatment is over, the patient's mouth is sterilized with a saline solution, and any incisions made are sutured up.
Crown lengthening is a safe treatment that dentists perform often. It does require oral surgery, which necessitates the patient to be healthy enough to recover. The advantages of using crown lengthening to improve the appearance of your smile include:
The treatment usually only needs to be performed once
It can be used to create a more symmetrical smile
It improves the patient's oral health
The treatment can be completed in as little as 30 minutes
Recovering after crown lengthening
Crown lengthening requires incisions to be made into the patient's gums, and that requires time to heal. The area worked on might be sore or swollen after the treatment. Recovery can be as short as a few days for some, while others might be a bit sore for weeks. How extensive the treatment is and the number of teeth fixed often determines the duration of the recovery period.
Patients might be given a prescription for pain relievers after their treatment. The dentist might also advise them to use ice to reduce any swelling that occurs. The ice pack should be placed on the cheek for 20-minute intervals on and off.
Giving the body all the nutrients it needs to heal also helps speed up the recovery period. Patients should stick to soft and liquid foods for the first week after the surgery to avoid aggravating the area.
Improve the appearance of your smile
Call or visit our Bryan clinic to learn more about how crown lengthening can be used to improve the way your teeth look.
Request an appointment here: http://www.riversdentistry.com or call Rivers Family Dentistry at (979) 710-2216 for an appointment in our Bryan office.
Check out what others are saying about our dental services on Yelp: Cosmetic Dentistry in Bryan, TX.
---
Related Posts
July 5, 2022
Chipped teeth are not only cosmetic concerns; they can be painful too, and cosmetic dentists know that. If you're looking for cosmetic dental treatment options to fix a chipped tooth, then …