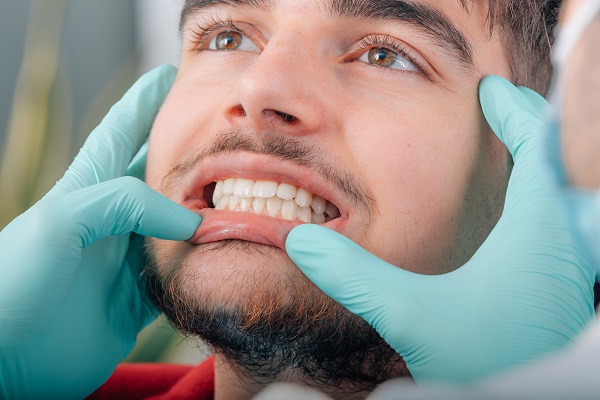 The importance of a dental exam often gets ignored. It can be easy to skip check-up appointments as life can get busy and most individuals think that at-home oral hygiene is enough to maintain healthy teeth and gums. However, this misconception is far from the truth.
Dental exams give general dentists the opportunity to look at the teeth and gums, ensuring that they are in healthy condition. Careful steps will be taken to check each tooth and both sides of the gums. If there are any warning signs, then the appropriate measures can be taken to address them. Continue reading to learn more.
Oral risks that can be caught during an exam
Below is a quick overview of how a dental exam can catch any oral health risks that may be existing. This information can be quite helpful to individuals who are unsure of what may come from an upcoming appointment.
Warning signs
When visiting a general dentist for an exam, there will be a few main warning signs that are checked for. The dentist will carefully examine all areas of the oral cavity using small dental tools. There is not any pain; however, it is a requirement to stay extremely still. Review some of the signs ahead of time as they may indicate whether or not treatment may be needed.
Bleeding gums
Grooves in the teeth
White or yellow patches on the tongue
Dark marks in between the cusps of molar teeth
Inflammation of the gums
Difficulty flossing due to build-up in between the teeth
Deep gum pockets
While there are a number of warning signs that may be indicated, the ones that are listed above are the most common. Inflammation, bleeding, and deep pockets may all relate to gum disease, which will require in-depth treatment to correct. In mild to moderate cases, a deep cleaning may be a solution. Grooves in the teeth, as well as any dark marks on the molars may indicate a tooth infection, which will likely lead to a cavity. If a cavity does appear, a filling, dental crown, or root canal may be needed to restore the tooth back to optimal condition.
X-rays
Another part of undergoing a dental exam is getting x-rays. X-rays are images taken by a dentist to get a better look at the jawbone and roots of the teeth. Both components are not visible to the naked eye, which is why having x-rays taken is so important. X-rays may show different warning signs, such as build-up around the roots or movement in the jaw, both of which require the attention of a dentist.
Get started with a dental exam
Undergoing a dental exam on a regular basis is important in order to maintain good oral health. To find out more about how oral health risks are addressed by a general dentist, reach out today. The dentist can answer questions and go over any existing concerns. Reach out today to learn more or to get scheduled for an appointment.
Request an appointment here: http://www.riversdentistry.com or call Rivers Family Dentistry at (979) 710-2216 for an appointment in our Bryan office.
Check out what others are saying about our dental services on Yelp: Dental Exam in Bryan, TX.
---
Related Posts
August 15, 2020
Teeth cleanings are an important part of maintaining good oral health because they ensure the removal of plaque and tartar, both of which can lead to serious damage to the gums and teeth. Thankfully, general …