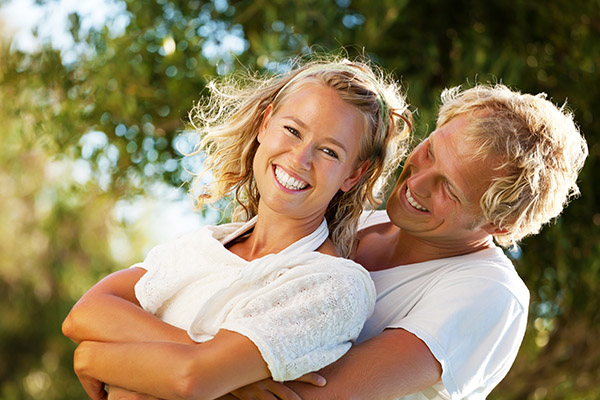 At Rivers Family Dentistry, we can improve the appearance and functionality of your smile using important cosmetic dentistry procedures. Many people have the impression that anything cosmetic is only important for appearances. This is simply not the case. We use cosmetic dentistry procedures like composite bonding to restore teeth that have been damaged and to improve the health of our patients, all while simultaneously improving the appearance of their smile. To find out how our solutions can work for you, call our 77801 office at (979) 710-2216.
Patients in Bryan, TX Visit Rivers Family Dentistry Can Choose to:
Close gaps in between teeth.
Whiten teeth.
Straighten their teeth.
Restore damaged teeth.
Replace missing teeth.
And more!
We Offer These Cosmetic Dentistry Procedures in Bryan, TX
Teeth whitening. One of the fastest and easiest ways to improve your smile is with teeth whitening. We can remove years of stains and discoloration, so your smile becomes brilliant again.
Composite bonding. If you have damaged a tooth, we can restore it quickly using composite bonding. Using tooth-colored composite bonding material, we can fix cracks and chips in one day. You can walk in with a chipped tooth and leave with a beautiful smile. We can also use this to correct minor shaping issues.
Porcelain veneers. We can transform the appearance of your smile using porcelain veneers. They are bonded to the surface of your natural teeth and become what you see when you smile. We can use them to correct nearly all aesthetic issues, including covering stains, closing gaps, making teeth appear straighter, and changing the overall size and shape of teeth. Porcelain veneers are among the most common cosmetic dentistry solutions used by Hollywood stars because of the amazing results they produce.
Dental implants. When you need to replace your missing teeth, dental implants are by far the best way to do so. This is the only solution that looks, feels, and behaves like natural teeth do. The implant serves as a new root system so your new tooth will remain secure while you eat, exercise, or engage in any number of daily activities. If you are tired of loose-fitting dentures or want a more attractive solution, call (979) 710-2216 to learn more about dental implants.
Invisalign®. As a 77801 Invisalign® dentist, we can straighten your teeth without using traditional metal braces. Clear aligners are far more convenient because they come out when you eat and brush your teeth, and are virtually invisible and incredibly discreet.
Visit Rivers Family Dentistry for Important Cosmetic Dentistry Procedures
You can schedule an appointment with our Bryan office by calling (979) 710-2216. We look forward to examining you and discussing how our solutions can improve your smile. We will be happy to answer any questions you have regarding composite bonding, porcelain veneers, teeth whitening, dental implants, and more. As an Invisalign® dentist, we can even discuss ways to straighten your teeth. Call today and take the first step in improving your smile.
---
Related Posts
April 1, 2021
Cosmetic dentists aim to address issues that affect the appearance of a person's teeth. The look of a person's teeth is one of the first things that others notice about them …
---