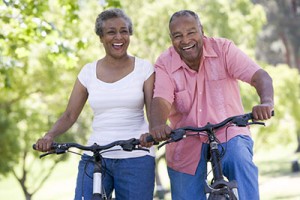 Rivers Family Dentistry provides patients with a variety of restorative dentistry options. Whether you have cracked a tooth, have chipped one, have a terrible toothache, or have lost a tooth, we have the dentistry solutions to solve your health problems. The key to effective restorative dentistry is to restore teeth in a way that looks natural. Our goal is to ensure that whether you choose tooth-colored fillings, implant restorations, porcelain crowns, bridges, or partial dentures/dentures, your restoration will look beautiful. We understand the importance of combining high functionality with aesthetics and comfort. When you visit our Bryan, TX dental office, you can expect that every solution we present will provide you with all that and more. You can schedule an appointment by calling (979) 710-2216.
Rivers Family Dentistry Offers These Restorative Dentistry Solutions
Tooth-colored fillings. If you are suffering from tooth decay or have a minor chip in one of your teeth, tooth-colored fillings can be used to restore the missing tooth structure. This solution can be placed in one visit for your convenience.
Porcelain crowns. When a large portion of your enamel is missing, porcelain crowns can be used to restore the tooth. Our crowns will blend in with your surrounding teeth so they are not noticeable while simultaneously providing you with a high level of protection and support.
Partial dentures/dentures. We can quickly and easily replace your missing teeth with partial dentures/dentures. Ours are more natural-looking than in years past and will fit you comfortably.
Implant restorations. The most durable tooth replacement is a dental implant. We complete implant restorations to ensure that you have a highly functional and beautiful replacement tooth.
Why You Should Visit Our Bryan, TX Office for Restorative Dentistry
#1 – Our solutions look natural.
At Rivers Family Dentistry, we pride ourselves in restoring teeth in a way that looks natural. Whether we are placing tooth-colored fillings, porcelain crowns, bridges, or implant restorations, we aim to make our solutions blend in with your surrounding teeth. Our 77801 patients appreciate that when we are done, it looks as though their smile has always been perfectly beautiful.
#2 – We can restore your damaged teeth quickly.
If you need a fast restoration, we can provide you with tooth-colored fillings or composite bonding in one day. That means you can walk in with a cavity, chip, or crack and leave our Bryan dental office with a fully restored and beautiful smile. The same is true for if you lose a tooth. We can provide you with partial dentures to wear temporarily while you decide whether you want to wear dentures long-term or whether you want implant restorations.
#3 – You can depend on us for amazing results.
We have been serving families throughout Bryan, TX and the 77801 area for years with amazing results. You can depend on our training and expertise to be applied to your benefit. Our restorative dentistry solutions can improve your appearance while restoring the overall functionality of your tooth or teeth.
Schedule an Appointment for Restorative Dentistry Today
If you live in Bryan or the surrounding area, we encourage you to call (979) 710-2216 and schedule an appointment with our restorative dentistry office. At Rivers Family Dentistry, we put the needs of our patients first, offering solutions for all your dentistry needs.
---
Related Posts
September 1, 2016
There are many restorative solutions that you should consider if you are having a damaged tooth repaired in our dentist office. Very often, people call our office concerned that they will need to have a tooth extracted …
---