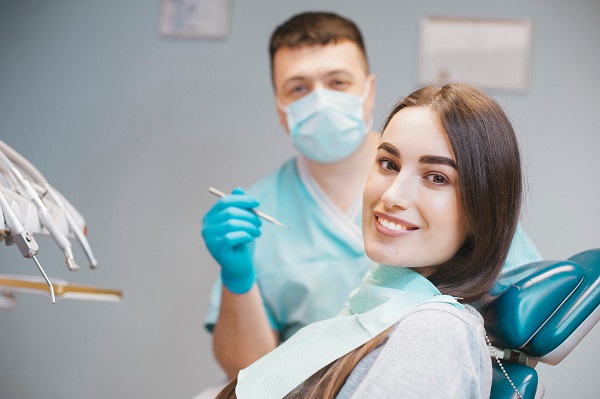 Looking into your restorative dentistry options? Teeth grinding (also known as bruxism) is common, affecting many people worldwide. This condition can lead to issues such as chipped teeth, cracked teeth, chronic headaches, TMJ disorder, and trouble sleeping. When tooth damage occurs as a result of teeth grinding, restorative dentistry is necessary to repair the areas of concern.
Restorative dentistry for bruxism
The type of restorative dentistry your dentist recommends depends on the severity of the damage and the location of the damaged teeth. Three main types of restorative dentistry for bruxism include dental crowns, composite bonding, and porcelain veneers. A dental night guard can help prevent future instances of tooth damage caused by grinding.
Dental crowns
Dental crowns, also called dental caps, cover damaged teeth entirely. They are customized to fit the exact tooth they are placed over, and they offer cosmetic, functional, and oral health benefits. The main types of dental crown materials are ceramic, porcelain fused to metal, metal alloy, gold alloy, and ceramic. Each offers unique benefits. In general, porcelain fused to metal, metal alloy and gold are ideal for teeth further back in the mouth (premolars and molars), whereas more visible teeth are often better treated through a ceramic dental crown.
Composite bonding
Composite bonding is a restorative dentistry procedure that involves the use of composite resin. The resin material is applied and bonded to the tooth to fix imperfections. When used to treat teeth that are damaged by grinding, composite bonding can lengthen the tooth and protect the deeper layers of the tooth structure. However, composite bonding is most appropriate for repairing minor damage. The resin material is also not as durable as a dental crown, particularly when used for premolars and molars. However, composite bonding is a good option (and a more affordable one) for more visible front teeth.
Porcelain veneers
Porcelain veneers are layers of porcelain that are custom-crafted in a laboratory. They are placed over existing damaged teeth to restore the appearance and health of the tooth. When used for restorative dentistry after teeth grinding, porcelain veneers can fix shortened teeth, chips, and cracks. They are most appropriate for front teeth and those who choose them typically do so because of the cosmetic benefits they offer. Veneers attach to the visible surface of teeth, so they may not work as well for repairing molars and premolars that have worn-down enamel.
A dental night guard (preventive)
Of course, an ideal situation would be to never allow teeth grinding to affect teeth. One way to prevent further damage to teeth from bruxism after restorative dentistry is to wear a custom night guard from your dentist. This ensures teeth do not touch while the person is asleep, and they may also reduce the risk of jaw clenching as well.
Talk to our dental team about teeth grinding treatment
You can learn more about teeth grinding prevention and restorative dentistry by calling our friendly team today. We can answer your questions and help you decide on the best course of treatment during a consultation visit.
Request an appointment here: http://www.riversdentistry.com or call Rivers Family Dentistry at (979) 710-2216 for an appointment in our Bryan office.
Check out what others are saying about our dental services on Yelp: Restorative Dentistry in Bryan, TX.
---
Related Posts
March 3, 2023
If you have dental issues that have made you less confident in your smile, you should consider consulting with a restorative dentist. The dentist will evaluate your smile and let you know …